I started cooking when I was ten years old. As the daughter of an industrial chemist, I was always interested in how cooking worked, and thanks to a commenter on another site, and some encouragement from the fine folks at foodloversweb.com, I decided today to start this food blog. What I will be publishing is patterns in cooking as I find them. What that means for my readers is to free them from the tyranny of recipe books, and to learn to create your own recipes.
Here's the first . . . although it's a little cold now, in a few months you'll be thanking me. This is a real crowd-pleaser at potlucks and dinner parties, and can be dressed up or down. Even better, it can be made ahead. Way ahead.
Sorbet
Blend anything to a smooth texture, add liquid to make a paste if necessary. Correct to please your taste, then either use the freezer method (put in a dish, put in the freezer, and stir every 10 minutes until frozen), or put in an ice cream freezer. Scoop and serve.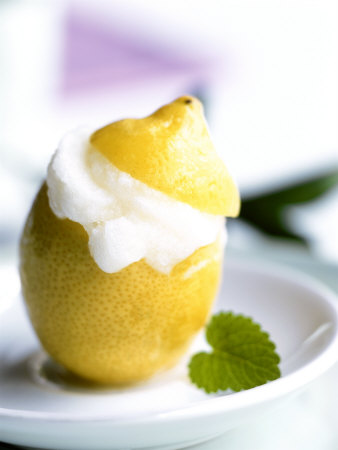 "Wait!" I hear you saying. "Ingredients? Liquid? Measurements?" Don't bother. Use your imagination. Coffee, chocolate, avocado, vichyssoise. After all, frozen alcoholic drinks are a sorbet. To experiment with savory sorbets, start with your favourite cold soups. What about guacamole and other dips? Just imagine how good they will taste frozen when the weather is hot, and consider serving them at your next summer grilling party.
For imaginative serving ideas, consider making savory sorbets into a lettuce wrap, or even better for either sweet or savory dishes, rolling them in fresh chopped herb leaves (for vichyssoise, how about rolling in chopped bacon or chives, or both?). Mold them with cookie cutters or butter or gelatin molds, slice and serve, or come up with something even more ingenious. Leave your ideas below!